Russell Stenberg
Animator | Artist | Designer | Programmer | All around good guy

Demo Reel
---
 Being World of Darkness is an un-released product I have been asked to only show in-game work to potential employers. If you would like to see my full demo reel please contact me for a link and password.
WoD Visual Target
---
  This was an internal video made for the express purpose of visualizing a few minutes of game play as it should play out through the eyes of a player. This video was made in roughly a three month period and rendered all using the in-game engine.
  While it was never released to the public I was given permission to show it to potential employers. If you would like to see it please contact me so I can provide you with a link and password.
Morpheme
---
 At CCP we used Natural Motions "Morpheme" to construct our animation pipeline. I grabbed a few images from our immense network. Learning to use Morpheme was something I took under my wing myself, we had an animation programmer but I wanted to make myself more useful to the project. After a short time I was implementing all my own animations into the network.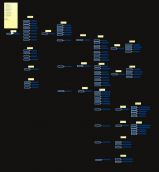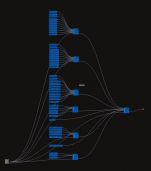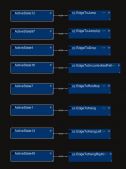 By the end of the project our network consisted of nearly 4600 unique animations.